Flutter Mobile App Development Services
Top Flutter App Development Company
Flutter is an open-source, cross-platform application development framework by Google. Since the time its development, Google has continued improving this super-astounding framework. With our Flutter Mobile Application Development Services, we help you build quick, reliable, and robust Android and iOS mobile applications.
Hop into the flutter application development for your business that is written in Dart language that utilises the language's copious features. Being a leading Flutter app development services provider, we help you build functionally-rich, visually appealing, and chart-topping cross-platform apps.
Now is the time to hire flutter application developers to make top-quality next-gen cross-stage mobile applications. Get the Flutter-edge for your business and experience the difference.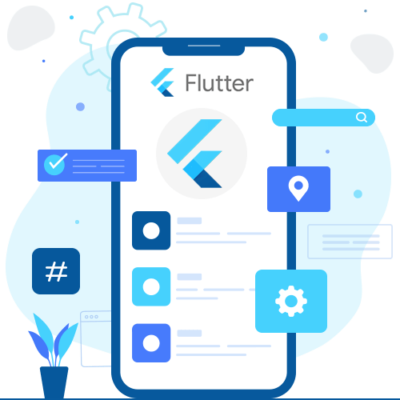 Best FLUTTER Development Services
Developing Custom Flutter Apps
From PoCs to full-fledged enterprise apps, we offer Flutter app development services for iOS and Android apps.
Application testing and debugging
Complete checking and logging are done regularly to ensure that the coding is efficient and bug-free that meets customer expectations.
Integrating AI and ML into Flutter apps
We infuse the power of AI and ML into Flutter development to add intelligence to applications to simplify human-computer interactions.
UI/UX Design for Flutter Apps
With Cupertino (iOS) and Material Design (Android), we create responsive Android/iOS apps with expressive UI and fast loading.
Integration of third-party APIs
We develop and integrate server-side APIs for cross-platform mobile applications per custom business requirements.
Application maintenance and support
We provide a contract system and support services to make Flutter apps up and running at all times with full responsiveness.
We run all kinds of Flutter App Development services that vow your Success
Our Flutter app development expertise:
Why Hire Flutter App Developers from
Arham Technosoft?
We are having a dedicated team of flutter application developers to assist you with beginning with Flutter. While it is a new innovation, the basics of JavaScript goes into developing flutter applications. We influence our team's JavaScript skill for flutter application development.
Our Mobile Application Development Services that utilize Flutter are capable of adding new features and enhancing them to improve performance and give customised solutions for consolidated advanced usefulness with prepared-to-utilise products. To develop your brand esteem, we use the most recent technology, tools, and approaches. All you have to do is tell us your requirement and what you precisely need. Get your project started with the leading Flutter Application Development company in USA & India today.
// Contact Us
Email or message us to interact with our experts and know how we can help you shape your digital aspirations and brand footprints.


Listed Among Top Companies